General Assembly : 8-10th November
This year our General Assembly is hosted by VÖF – Verband Österreichischer FilmausstatterInnen. We expect delegates from 13-15 organisations / 8-10 countries. Confirmed : Austria, Germany, Denmark, Finland, France, Great Britain, Italy, Netherlands. More detailed information will be sent to attendants only, as Friday's and Saturday's program are closed to public. If would like to attend as a guest, please contact us at office@nullartscenico.com.


Friday 8th : arrival, guided tour through Vienna and Administrative Board meeting during the afternoon, dinner at a "Heuriger".
Saturday 9th : dedicated to our General Assembly, dinner at a typical Viennese restaurant.
Sunday 10th : panel discussion open to public

FILM FOR FUTURE
Green Costume & Production Design Initiatives
11:00 h – Metro Kinokulturhaus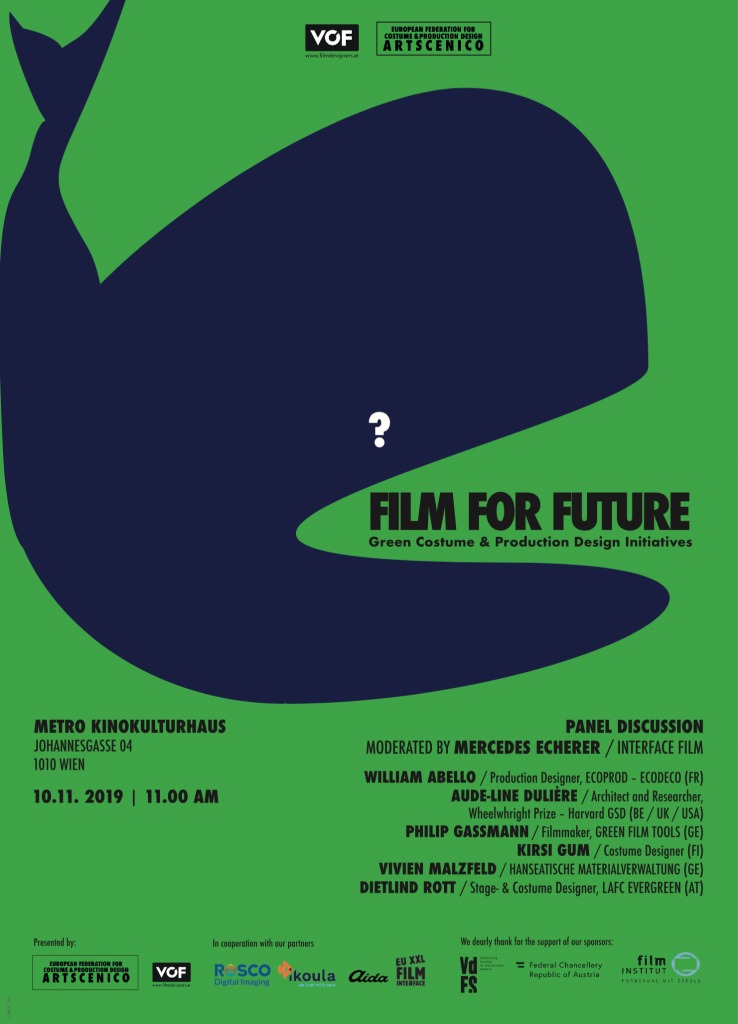 Mercedes Echerer / EU XXL & INTERFACE FILM (AT) – moderation
William Abello / Production Designer, ECOPROD – ECODECO (FR)
Aude-Line Dulière / Architect and Researcher, Wheelwhright Prize – Harvard GSD (BE / UK / USA)
Philip Gassmann / Filmmaker, GREEN FILM TOOLS (DE)
Kirsi Gum / Costume Designer (FI)
Vivien Malzfeldt / HANSEATISCHE MATERIALVERWALTUNG (GE)
Dietlind Rott / Stage- & Costume Designer, LAFC EVERGREEN (AT)
More information : FILM FOR FUTURE.
– – – – – – –
We dearly thank for the support of our sponsors :
as well as our hosts and our partners :
– – – – – – –